About Us
Age 88
of Albuquerque, New Mexico
inventor of Z-CoiL Footwear


Z-CoiL is a small family owned business based in Albuquerque, New Mexico. The shoe itself is an original idea that was born in 1991, and the company took off shortly after.
Father and son duo, Alvaro and Andres, traveled the world to find someone who would manufacturer their "far out" idea. In 1992, the spring shoe came to life and the company has never looked back. They have sold over a million shoes all around the world.
At 88 years old, inventor Alvaro still gets up and goes to work everyday in their headquarters located in Albuquerque. He still answers phones and helps fit customers. Alvaro believes in the shoes and their mission, and continues to run in his coils. Andres stays busy with small business strategy and he is constantly thinking up new and better ways to innovate their creation and contribute to the pain relief industry through revolutionary shoes.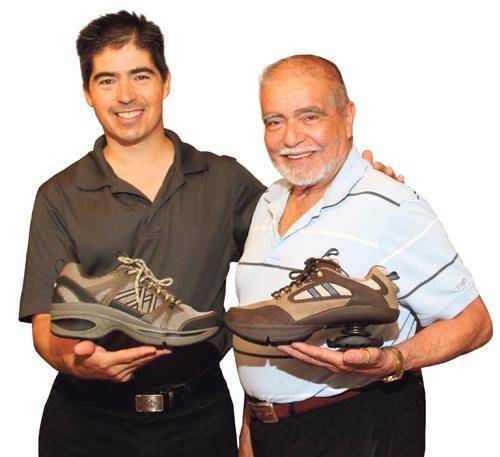 THE FOUNDER'S SOUTHWEST BEGINNINGS
Alvaro Z. Gallegos (Al), the founder and inventor of Z-CoiL, grew up with ethics of hard work on his family's farm in beautiful Southern Colorado. He learned about retail early because his father worked in the small town Del Norte store. Al later served in the Air Force as a test and fighter pilot in the Korean War. When he returned, he and his father started a shoe store in Espanola, New Mexico. Al grew that store to a 10,000 square foot department store, supporting his beloved wife, Marcella, and their eight children. While continuing to work his business in Espanola, Al moved his family to Santa Fe for the schools. He built a traditional adobe home with views of the famous Southwestern rolling desert hills and snow capped mountains.
HIS WIFE PASSES
Marcella, at age 42, unexpectedly passed away, leaving him alone to raise their eight children ranging in ages from 2-17 years old. Running became his means of dealing with the stress of his new found situation and staying healthy for the kids. Sometimes he'd run 4-5 times a day. Soon after, he started running competitively. Then he started experiencing all the typical injuries associated with running. Although he had access to all types of running shoes in his store, he couldn't find any shoes that eased his pain and allowed him to continue running. So, Al decided to create his own brand.
THE SPRING SHOE IDEA
One day during the run that changed his life, the concept of a spring literally appeared in his head. He felt that someone from above, probably his wife, sent him this idea. "All of a sudden I had this concept of a spring on the bottom of my shoe during my run - I will never forget that moment. The problem was that they (Marcella and God) did not send me an instruction manual describing how to put the shoe together." "I suspected that the spring would act as a shock absorber in the heel of my shoe reducing impact, allowing me to continue to run and might even make me faster!" said Al, whose nickname was "Speedy" in the Air Force. He was always looking for a way to go further and faster with more energy.
SOLE CUT OPEN BY A BUTCHER
After experimenting with lots of different types of coils, Al found that a three-inch-wide conical steel coil worked best because it collapsed inside itself. When his first conical coil arrived he was so excited to try out his new idea, but he didn't have the right saw to cut open the sole of his shoe. So he took his shoe next door to the local butcher, returned to his office, glued in the springs and went for a run… "and it was glorious!"
AL FINDS A MANUFACTURER
The popularity of Al's coil shoes with friends and family prompted Al to search for a shoe manufacturer. It was a long and difficult road, and he was sometimes laughed out of offices. And truthfully most manufacturers just didn't have the engineering capability to make this high tech complicated product. Finally, Al found some engineers and a South Korean shoe manufacturer who used to make American brands like Nike and Reebok before those companies moved their operations to China.
AL'S SON RETURNS HOME
In 1995, Al's son Andres, a pharmaceutical product manager in New Jersey, returned home to NM to help open the headquarters in Albuquerque. Andres was a runner also, so they identified with athletes and marathon runners. Al continued to tinker with new inventions while Andres ran the company. Al designed a rounded footbed type, rigid orthotic which transferred the weight of the runner evenly, while also protecting the foot from the spring underneath. He and Andres patented the advances in the technology and built the rigid orthotic into the spring shoe. So the next generation of footwear was born, the "Freedom 2000".
EXPANDING THE MISSION TO PAIN RELIEF
They had Sandia Labs do some studies that proved the unusual amount of shock absorption. Soon after they weren't just attracting athletes. Doctors, podiatrists and people in pain started buying the shoes. After listening to phone calls of older clients, Andres began to realize that "pain relief" was the true benefit of his father's springheeled, impact-reducing shoes. Andres (who was in his 20's at the time) says he'll never forget when one woman said to him on the phone, "Now listen Sonny, did you hear me? I'm not a runner and these shoes work for ME!"
Al KEEPS RUNNING TODAY
Al has been running in Z-CoiLs for over 33 years. When Al turned 80 years old he decided to participate in the Senior Olympics in the 100 meter run. They told him he was not allowed to run in the ZCoiLs because the shoes would be too much of an advantage. Most years he runs in one of his prototypes without a spring that he keeps developing. This summer he plans on running again in the NM State Senior Games on July 21, 2018.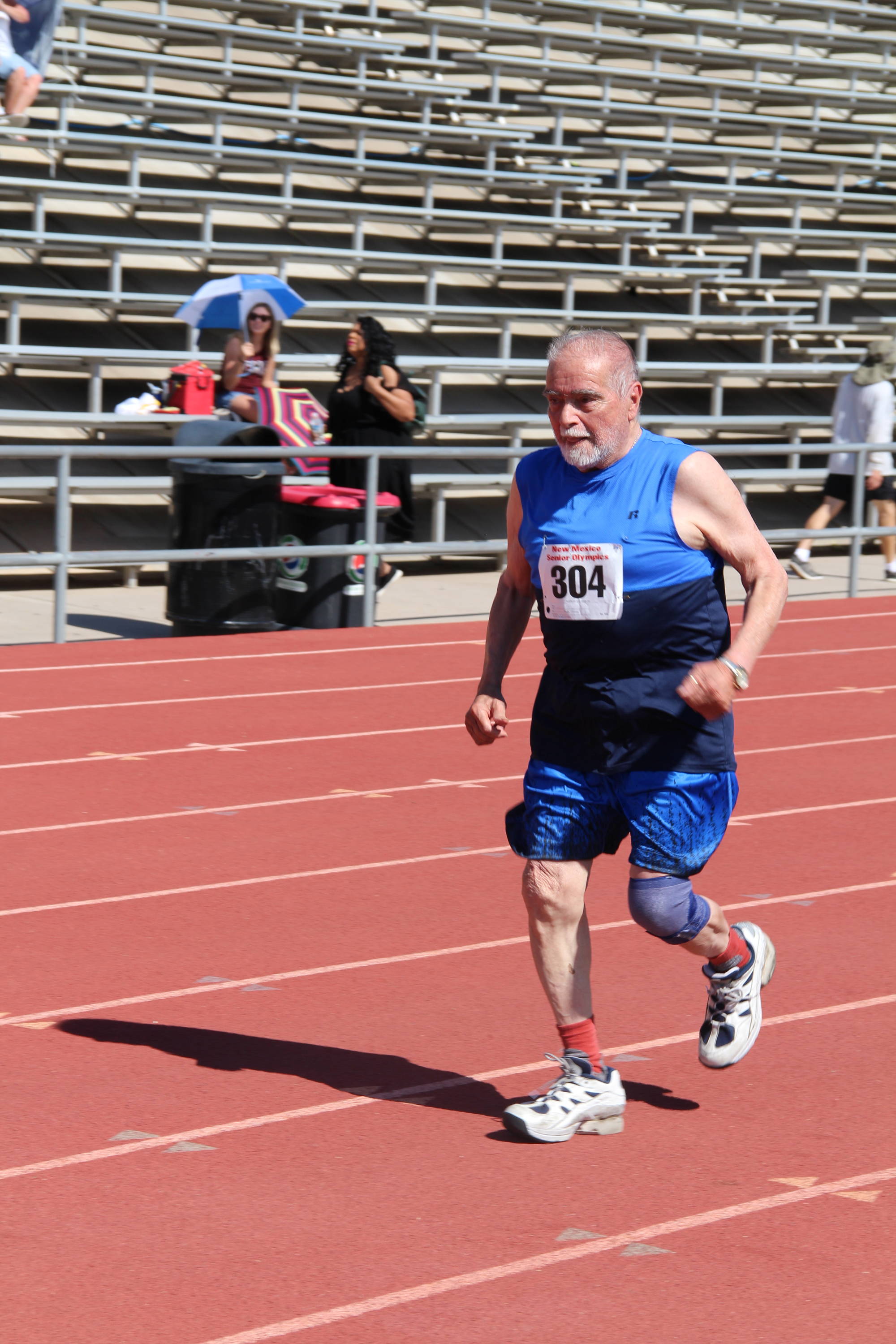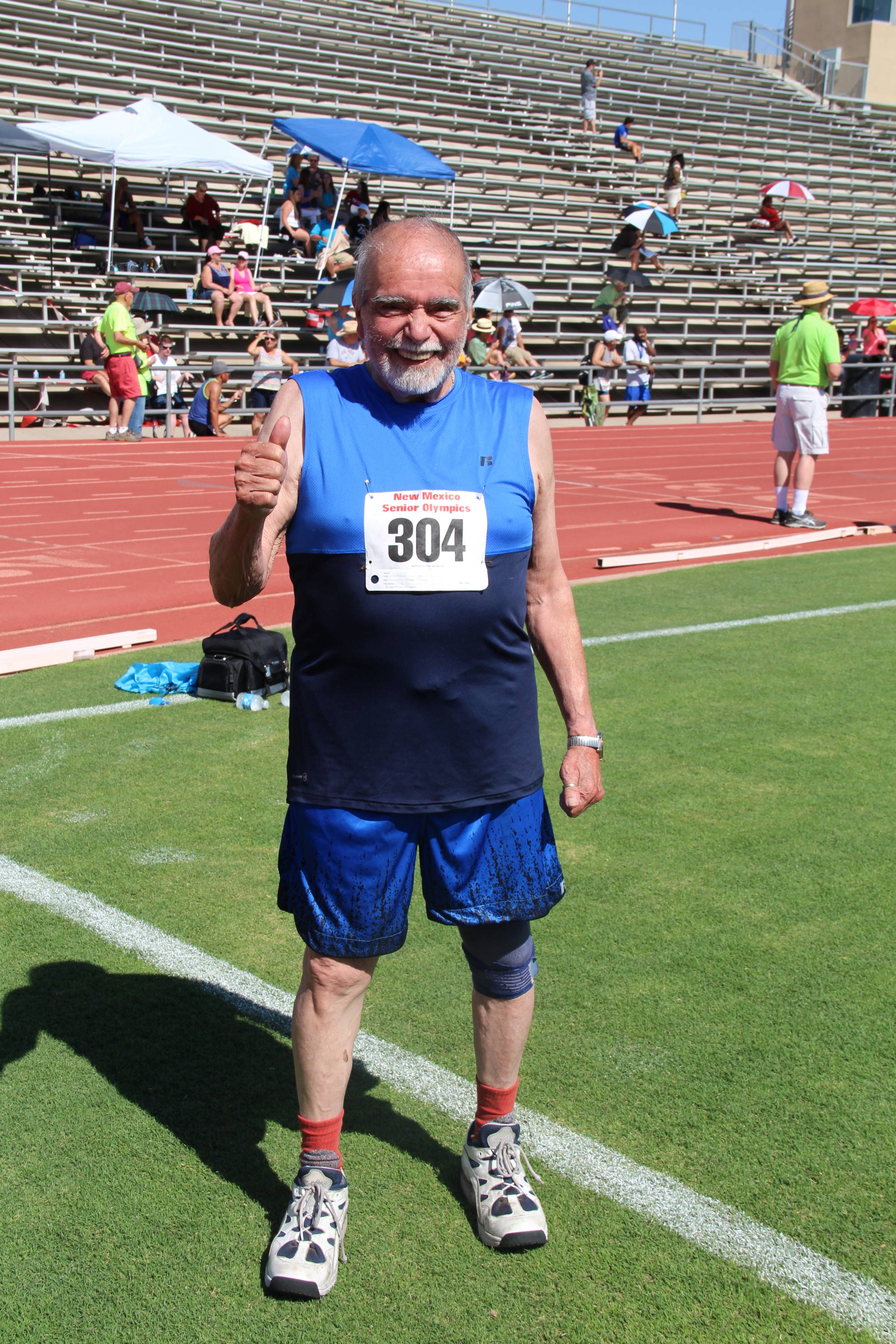 OVER ONE MILLION SHOES SOLD
Since the inception of the company, Z-CoiL has sold over one million shoes and has collected thousands of testimonials. Z-CoiL wearers say they have escaped surgery, discontinued their foot injections and pain pills, lost weight, and increased their energy. And one of the most common things Al continues to hear is "These shoes are the answer to my prayers!"